The Easy Guide to Great Horse Fencing
April 6, 2015
There's something special about driving down a country road in the Fraser Valley and seeing beautiful horses grazing in a pasture just beyond the post and rail fence that keeps them safe. It's a classic picture that helps increase the value and appearance of an equestrian facility and secures the financial investment of the horses themselves. But all horse fences require careful planning and material choices, taking into account the use of the space and the sex, age, and value of the horses.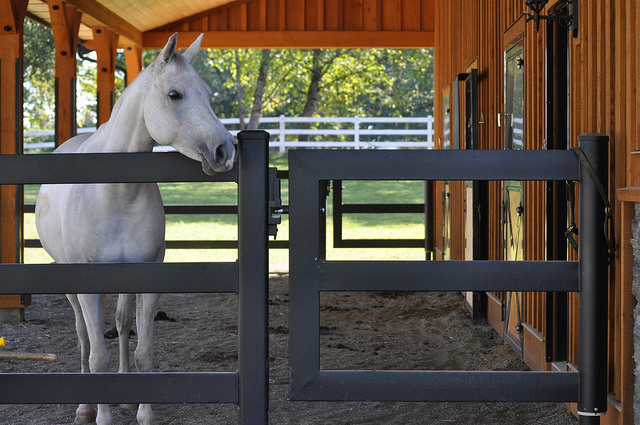 Planning your horse fence
When it comes to planning the fences for your equestrian property, you will want to take into account obstacles, uses, and potential growth. For example, if there are streams or creeks on your property, your fencing contractor will need to address them accordingly. Consider future growth and uses of the pastures and fenced areas. It's easier to install additional gates and features during the initial construction and planning than it will be to put them in later.
When it comes to gates within your fence, consider installing kissing gates (or something similar) which will allow people to easily pass through the fence, but not the horses. If you need to have latches on the gates, try to pick latches that can easily be opened and closed with one hand, but that aren't accessible to the horses. This will make it easier for you to come and go when you're doing chores. You will also want to include large gates that will allow you to drive vehicles and large equipment into the pasture. Heavy farm machinery and equipment may need gates up to 16 feet wide to easily maneuver through.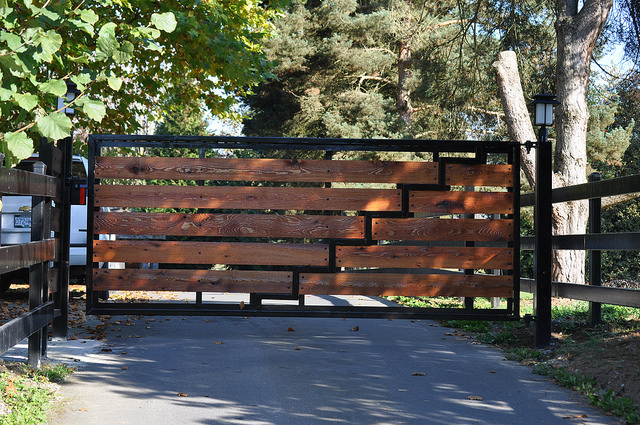 Building a great horse fence
There are many different types of fencing that can be suitable for your equestrian property, depending on your use and your horses. The important thing is that stable owners take into account all aspects and planning options. For example, a less expensive barbed wire fence can lead to more expensive veterinary bills, should a horse become trapped in the fence.
The stability of the fence is equally important, as the important test for the fence will come when the horse tries to escape or when they crash into it during a playful romp. Horses are large animals and when that is combined with speed, your fence will be tested to its limit.
Ideally, your horse fence should be extremely sturdy, tall, and highly visible. If your horses can clearly see the fence, they will be less likely to crash into it and, if they do, the fence should be strong enough to keep the horse contained without sustaining serious damage to the fence or the horse.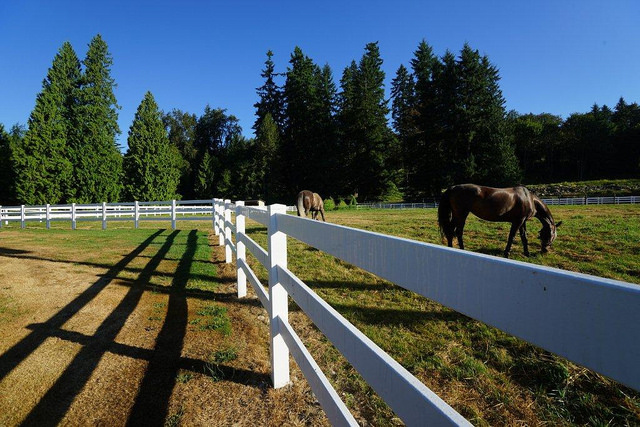 The Basics
A secure horse fence should ideally be 54 to 60 inches tall. As a rule of thumb, the top fence rail should be at wither height and the average Thoroughbred horse is 16 hands (64 inches) high at the withers.
The clearance at the bottom of the fence should be about 8 inches if you want to keep a hoof from becoming trapped, yet discourage the horses from eating the grass on the other side of the fence. If you intend to keep foals within the fence, the bottom clearance shouldn't be taller than 12 inches high or a foal may be able to roll beneath the fence.
To help keep your horses from reaching through the fence and to minimize the chances of your horse becoming trapped in the fence, keep the space between the fence rails to 12 inches or less.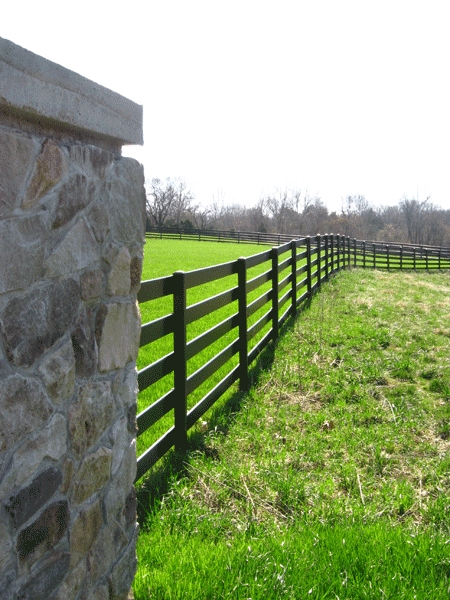 Fence posts
The fence posts are the most important aspect of your fence when it comes to its stability and ability to withstand the wear and tear of the horses. Most horse fences use wooden fence posts and at A & G Fencing, we encourage property owners to consider Woodguard fence posts, which are wood in a polymer coating.
The fence posts should be driven into the ground with a post driver to ensure maximum stability, or the posts may also be encased in cement. As a minimum, a third of the height of the fence should be underground to ensure stability. If your post and rail horse fence is 60 inches high, an additional 20 to 24 inches of the post will be underground. If the post is adjacent to a gate, it may be larger in diameter and can be set several inches deeper to ensure stability.
As a final measure, it's a good idea to add a post cap to the fence posts. This will help preserve your fence against weather and keep your horses from gnawing on the fence posts.
Woodguard Horse Fencing
As mentioned in the previous section, Woodguard is a great option for horse fencing. Not only does it provide strong, durable, weather resistant fence posts, but Woodguard is also available for fence rails too. Like the fence posts, Woodguard rails are wood encased in a polymer coating. This allows you to construct your horse fence in the same way as a traditional wood fence, but with lower maintenance and an increased lifespan for your fence. The polymer coating also discourages horses from gnawing on the wooden rails and posts, and creates a smooth surface that won't cut your horses or cause splinters. Plus, Woodgaurd is designed to stay pliable and strong in cold winter temperatures, making it a great choice for equine properties in the Fraser Valley.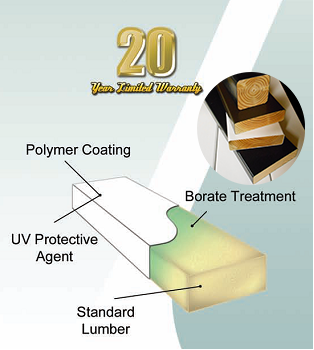 Great horse fences can increase business
A well constructed and maintained fence can enhance the appearance and value of a stable. The enhanced perception of the facility can then help to increase marketing efforts. An advertisement with horses behind a beautiful fence is vastly different from one with a weathered and poorly maintained barbed wire fence. Unsafe and unmaintained fences also leave the perception that the horse facility is poorly managed and causes potential buyers to question the quality and well being of the horses.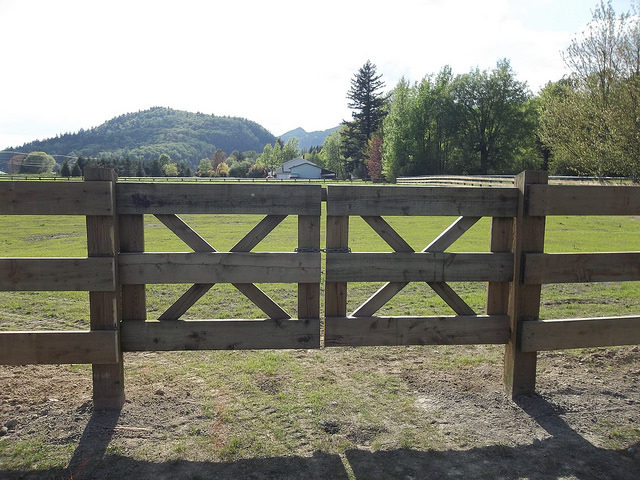 Horse Fencing Contractors
You will want to choose your fencing contractor carefully when it comes to constructing a fence that looks great, protects your horses, and stands the test of time. Choose a contractor who has experience in designing and installing an equestrian fence. Ask for references and for the location of some of their recently completed projects so that you can see the fences for yourself. Your contractor should also give you a quote after they have seen your property and understand your needs and they should be prepared to stick the the price quoted.
At A & G Fencing, we have worked with numerous stable owners and properties in the Chilliwack, Langley, and Abbotsford areas. We understand the unique needs for equestrian fencing and our team is happy to answer any fencing questions you may have.