What are the benefits of buying pre-stained wood fencing?
May 2, 2018
Staining a fence is an important part of ensuring that it stays strong, resists rot, and looks great. At A & G Fencing in Chilliwack, we are big advocates of pre-staining the fence panels, saving our clients time, money, and the headaches of properly staining the new fence themselves.
A & G Fencing has a heated paint shop in Chilliwack, which is the perfect place for us to dry and pre-stain our fence panels for our customers. The shop is also equipped with a dehumidifier that helps remove moisture from the wood so that it doesn't warp and will absorb the stain better. If you stain a fence after installation, you risk having to deal with the weather and even waiting for the wood to dry after a large rainfall.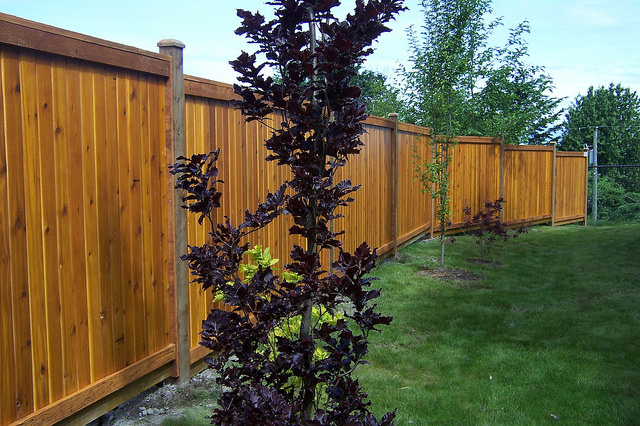 The experienced team at A & G Fencing also carefully hand selects the pieces of wood that will be used for your fence panels to ensure uniformity and that the cedar pieces are of a high quality. This is something to take note of, since some companies may not be as diligent in their selection of materials, and pre-staining may disguise these potential flaws.
You will also want to ensure that your fencing contractor uses a high-quality, commercial stain. We choose to pre-stain our fence panels using a semi-transparent stain that our customers will be able to match to in the future, should touch-ups or re-staining be necessary. We also colour match using a solid stain as necessary for customers who are looking for a specific look or colour for their fence.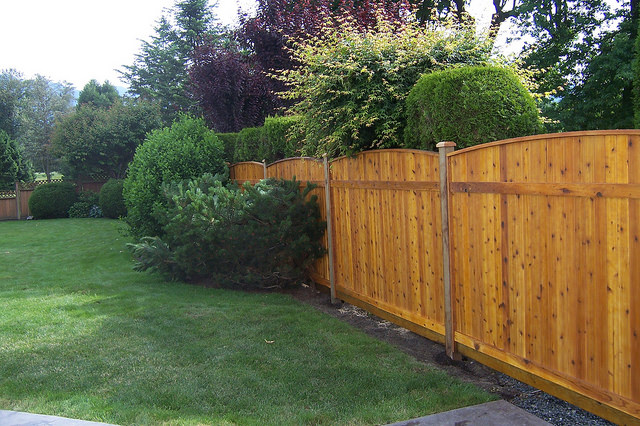 Pre-staining this fence for our homeowners made it easy to install the fence between the trees and hedges.
Best of all, when you choose to have a fence pre-stained, you won't have to enter the neighbour's yard to stain the other side. It's also a great option when your fence is going in near hedges and other obstructions. Trying to stain a fence later when you have to squeeze between hedges and trees is not fun. At all!
While staining your fence after installation is possible, pre-staining is the way of the future. Today's high-quality wood stains and the temperature and moisture controlled shop, such as the one at A & G Fencing, ensures that you get a beautiful, long lasting fence for your home or property.
Got a question? Ask us!