8 innovative fencing projects in the Fraser Valley
October 11, 2019
One of the best parts of the job is the look on our customers' faces when we've finished a particularly challenging project.
Recently, we worked on some fun and challenging fencing projects and each one pushed us to learn something new. Lessons such as learning to work efficiently in tight and awkward spaces, designing a creative solution to a unique problem, providing a kid-friendly feature, and many more. Here's what we've been up to recently.
Fence with razor and barbed wire
The main challenge of this project was the removal process — old rusty metal and tangled razor wire just waiting to cause an accident. We meticulously removed and replaced it with a 10' high metal fence with an additional 2' of barbed wire and razor wire on top.
The new fence was installed right up against an existing building so the working quarters were very tight. The majority of the work was done from only one side and our crew had to rent special lift equipment to install it. And installing sharp, razor wire and barbed wire in a lift can be quite difficult. Plus, our timeline was only 2 days as there was a security issue at this auto body shop.
Black chainlink enclosure
Creating a clean and innovative garbage enclosure out of black chainlink might not sound too glamorous, but this project was actually quite an enjoyable challenge. It was a new design for us to work on so we had to spend some extra time in the office perfecting the building plans before we began.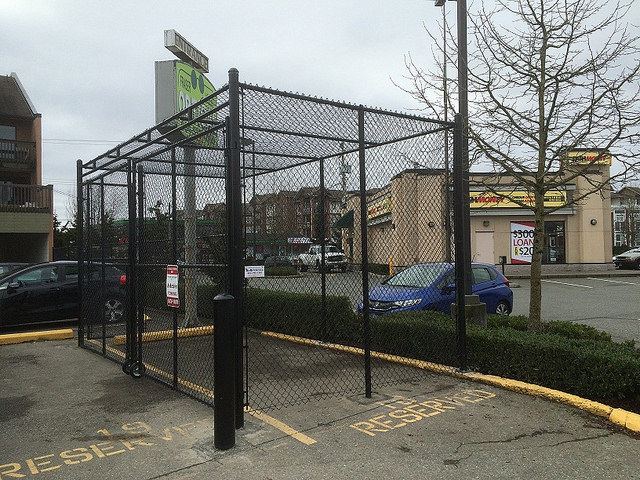 An imperative aspect of the design was to create the fence high enough so that people couldn't climb over the top, but still user-friendly for both the garbage trucks and the tenants to use efficiently.
20' backstop structure
Over the years, we have done a few backstops for local schools and parks, but this 20' high backstop had a challenge for us to overcome. The massive posts. To lift and install them we had to enlist special equipment. Most of the work had to be done using a man lift. All materials had to be lifted and installed with the lift, which took plenty of extra time and care.
Picket fence design
While some jobs are straight-forward, some challenge our creativity in ways that we don't expect. For this project, we put a lot of work into the design process of this picket fence. Every aspect had to perfectly match the look and style of the strata complex and we made sure to leave lots of room for landscaping and gardening when we installed the fence.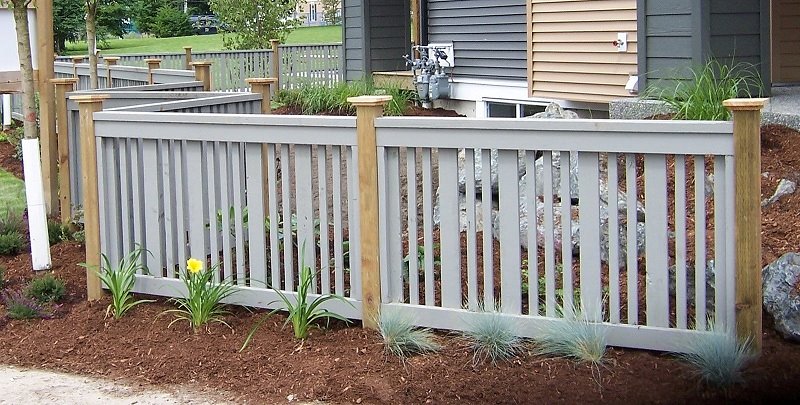 Galvanized chainlink fall protection
Matching an existing structure always makes a project unique. We put together this galvanized chainlink fence for a local developer and ensured that it followed every step on the concrete retaining wall. The purpose of this fence is fall protection so it was imperative that we matched the concrete retaining wall perfectly.
Tall privacy fence
It's in the name! The purpose of this project was to increase the client's privacy. Located right beside a school, they wanted an 8' high privacy fence that didn't have an imposing feel. This was an interesting challenge for us. Because the panels were so much taller, they were immensely heavy and tricky to install. For a nice finishing touch, we added the lattice on top for a more aesthetically pleasing feel.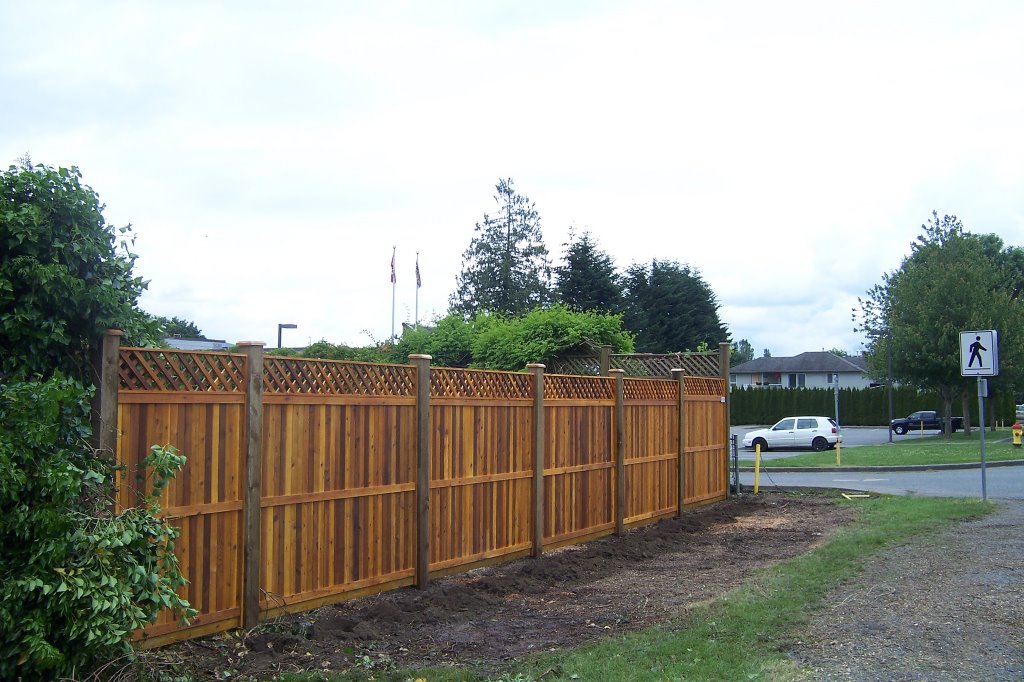 Swing gate
We created a rolling and swinging gate combination to create a 50' opening. There were some space constraints so we had to build it with some creative flair. To add stability, we added anti-sway bars and cable supports so that the system works flawlessly.
Privacy fence and arbour
For a local daycare in Abbotsford, we created a venetian-style, stained panel fence that gave the daycare 10' of privacy. All the posts were plated onto concrete and we had to keep our work area as spotless as possible for the children. We also integrated a sandbox into the arbour for the children to enjoy — with sanded down corners and edges to keep them safe of course!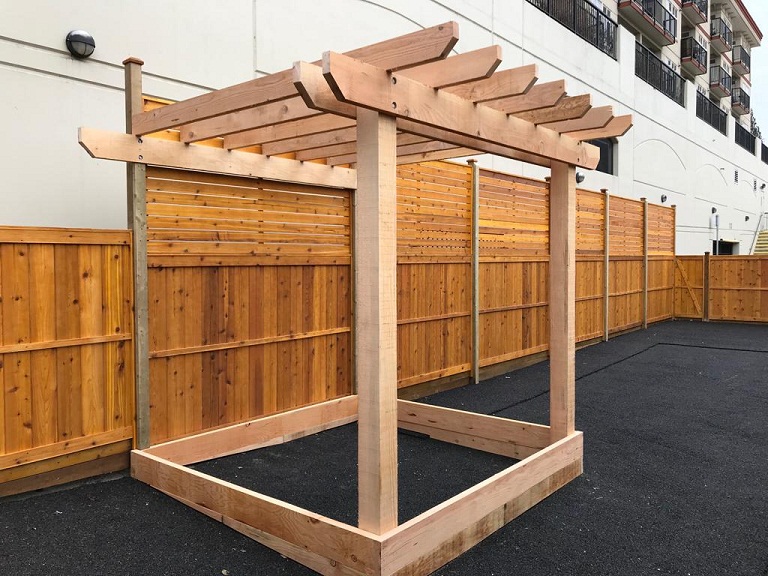 One of the most enjoyable and challenging parts of any fencing project is coming up with creative solutions to fulfill our clients' needs. Every project is unique and we take pride in providing excellent customer service.
From fencing repairs and replacements, to brand new fencing projects, we do it all. If you're thinking about upgrading or building a new fence in Chilliwack, Abbotsford, Langley and the Fraser Valley, give us a call and let us know how we can help.