How to prevent water damage to your fence.
April 8, 2020
Water has such a strong impact on our day-to-day lives from fresh drinking water to torrential rainstorms. It's a powerful force. When it comes to harming our property, not only can it cause water damage to our homes, but our fences are vulnerable as well.
To give your fences a fighting chance, there are plenty of preventative measures you can take to protect them. These can vary depending on the type of fence, but the first thing you should know is how to determine if your fence could have water damage.
How to identify water damage
When you're doing your routine checks of your fence, be sure to watch for sagging or leaning fence posts, rotten wood (if you have a wood fence), and areas that seem to collect water.
A good way to find areas that may pose problems in the future is going over your fence right after a rainstorm. Look for areas where water has collected into pools. When you do your routine checks on your fence, remember where those areas were and really inspect the base of your fence posts to determine if they are developing water damage.
Not only will water damage nullify the effectiveness of your fence by weakening it, but it also leaves your fence posts more vulnerable to insects and other environmental factors — further damaging the structure.
How do you treat water damaged fences?
Unfortunately, there isn't a quick fix for water damage. The best you can do is replace the damaged section with patches or a full fence post replacement. The key to protecting your fence lies in preventative measures you can take each season by staying up-to-date on your maintenance.
Fixing your landscaping to stop water from pooling around your fence posts and following proper maintenance for what type of fence you have are your two best tactics to keep your fence as good as new.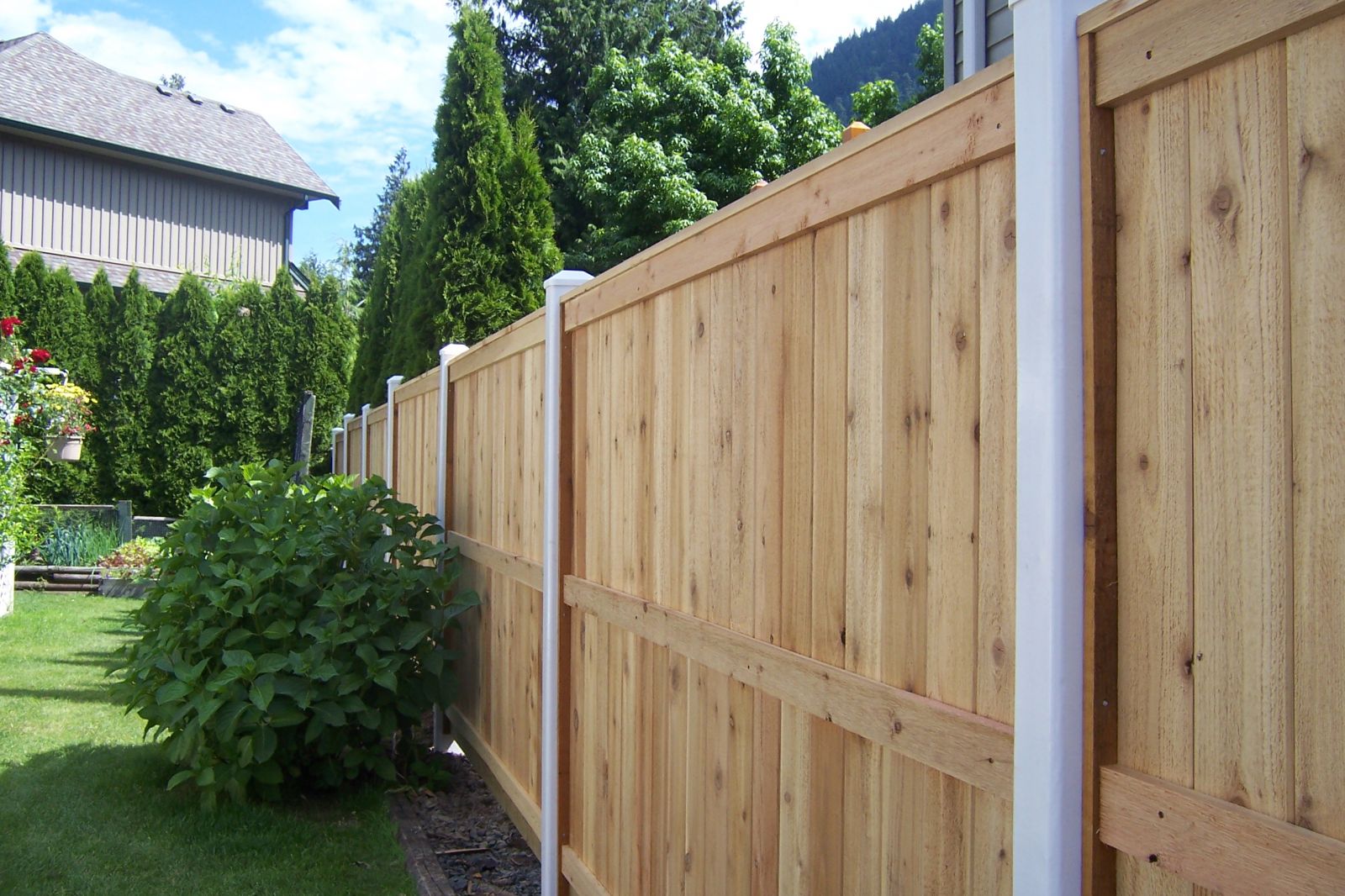 What kind of fences are most vulnerable to water damage?
While chain link and iron fences are protected by a surface coating and are one of the most durable fences, over time the coating can wear down and reveal the metal. Exposed metal with moisture equals rust. Chain link and iron fences can develop rust, especially at the base where water can build up, which will weaken and deteriorate the fence. If you notice any bare metal or a thinner protective coating, be sure to reapply a sealant to continue protecting your fence.
The most susceptible material to suffer from water damage is wood. Wood fences have a sealant coat that protects them from moisture but, as with chain link and iron, this can wear down over time. When wood is left to handle environmental conditions on its own, it can absorb water quite easily. That's where Woodguard comes in. This is a polymer coating that protects wooden fence posts from the elements and provides the same benefits as vinyl fencing.
Being the most weather resistant fencing choices, vinyl fences require the least amount of maintenance and aren't as affected by water as their other fencing counterparts. Vinyl is quite strong and durable, allowing it to withstand harsh rainstorms and it doesn't rust, decompose, or mold.
To prevent water damage, stay vigilant. Complete the proper maintenance, evaluate your fence after rainstorms, and keep your eyes peeled for damaged areas that need replacing. For more information or inquiries about fence installations and maintenance services in the Fraser Valley, contact us today.